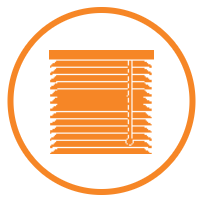 Blinds in Melbourne
Take a quick look at the full Uniblinds range of blinds in Melbourne and you will not find a weak link. Study the specifications of the security doors for your Melbourne home and you will find they have a fully welded steel insert grill, made in one piece for greater strength. They are then coated with an electroplating method for a zinc finish. This protects the door against the elements, ensuring it looks good and reducing the risk of corrosion.
Read More
Customers Demand High-Quality Blinds in Melbourne
Many Melbourne residents are fitting roller shutters in Melbourne to create a full security barrier. They can be made to fit all types of windows, including bays. The blinds retract to a discreet housing unit above the window or door and can be operated using a variety of systems, including remote control and manual handles. Some of the shutters available offer a colour scheme and viewing panels.
In addition to the security elements of the Uniblinds range, we offer a large selection of internal and external blinds for Melbourne customers. On the inside, there are vertical, sheer, roman, Venetians and plantation blinds to name but a few. For the exterior, we offer a superb range of canvas awnings, which come in standard sizes, but are very often made to measure for each window and door of your home.
We provide our wide range of products throughout Melbourne suburbs including blinds Coburg.