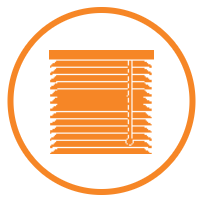 Roller Shutters in Bacchus Marsh
At Uniblinds, we provide security door in Melbourne for your home, all complete with practical style and comfort that work for you. So, if you are looking to enhance the security around your home with a security door or you want to protect your contents with roller shutters in Bacchus Marsh home, Uniblinds is your go-to place.
Get a Free Quote!
25+ Years of Experience
Your One Stop Shop
5 Years Warranty
Free Design Consultation
Australian Owned & Operated
Why Choose Uniblinds For Roller Shutters to Enhance the Security of Your Bacchus Marsh Home?
When you are looking to increase the security of your home with roller shutters in Bacchus Marsh or with security doors, you need a company that you can trust. Uniblinds have 25 years of experience, and we are experts in the industry.
We come and measure your windows and doors to ensure that you get a good fit from our products. These are then custom-made for you for the best level of security before they are installed. They must be installed correctly to ensure maximum protection. At Uniblinds, we have our own full-time installers, and we do not contract out our work.
Visit or contact us today to see how we can help to improve the security of your home.
Get a Free Quote!
Uniblinds is Serving Roller Shutters in Bacchus Marsh
We have showrooms in Melton and Epping so that you can view our range of products and get just what you need for your home. With friendly and helpful staff on hand to offer you advice, you can be sure that we can find you a style that works for your budget.
Increase the Security of Your Home By Roller Shutters in Bacchus Marsh
Unfortunately, burglaries do happen, and as much as we do not like to think of them happening to us, your best offence is defence. Protecting your home with security measures is the ideal way to deter burglars from attempting to break into your home.
Our roller shutters in Bacchus Marsh are a great way to add further security because potential thieves will not be able to see the contents of your home. This is particularly useful for ground floors where there may be expensive equipment on display.
Roller shutters are made from aluminium or steel, and as such, are incredibly hard to break in through. They are also attached to your window for added security, and it would take a great deal of effort to pull them away from your windows. Even the sight of a roller shutter can put potential thieves off from attempting to enter your home, so they are an investment worth making.
What's more, with a roller shutter in Bacchus Marsh, you can also keep out the sunlight to protect the contents of your home from sun damage. Unlike a canvas awning, a roller shutter can control the noise and the light. You may have children that go to bed early, and you want to make their room as peaceful and dark as possible. Roller shutters can help to minimise the noise from traffic and neighbours.
They also come with an easy internal operation so that they are simple to use and control.
We also have a range of security screen doors that can be fitted to your doors to protect your entryways into your home. We have styles that will suit varying budgets and tastes, along with different levels of security.
Some of the other areas we services are:
Get a Free Quote!
Get a Free In-Home Consultation!