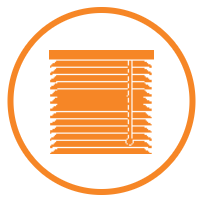 Roller Shutters In Werribee
If you are looking for a window covering solution that is aesthetically pleasing yet offers maximum functionality, then you just cannot go wrong with roller shutters in Werribee. These shutters are a true revelation for home and business use because they give you so much more control over exterior and interior elements and they look very stylish.
At UniBlinds (leading security blinds supplier in Melbourne) we sell a wide range of fine quality blinds and roller shutters in Epping. Our blinds in Werribee are certified products that have been tested by Australian standards of security and are made of fabrics and materials of the highest grade ratings.
Get a Free Quote!
25+ Years of Experience/h3>
Your One Stop Shop
5 Years Warranty
Free Design Consultation
Australian Owned & Operated
Get the Best Roller Shutters in Werribee
We offer a wide range of roller shutters in Werribee to choose from in different shades and styles. Here is a quick look at the blind types you can order from UniBlinds right now;
Exterior shutters – Our exterior roller shutters and blinds are designed to offer you protection while enhancing the overall aesthetics of your home. You can buy a wide range of types such as wood, composite, vinyl, storm and more for your home.
Interior shutters – These shutters are for interior installation and gives you great control over your interior environment. Our interior shutters and blinds in Melbourne's western suburbs are available in various designs in different material types such as wood, vinyl and more.
Recess shutters – These shutters are fitted to the inside of the window or door frame without extending past the window or door frame.
Facefix shutters – Our facefix shutters or outside shutters protrudes past the door or window frame for a more spacious window look.
Get a Free Quote!
Benefits of Installing Roller Shutters in Werribee
Getting security roller shutters in Werribee is not just aesthetically pleasing. These window covering solutions offer a huge variety of additional benefis such as the following;
Security protection – Blinds enhance home security because they cannot be pulled away or removed easily.
Sun protection – Shutters protect your home's interior elements such as your flooring, curtains, and furniture from harsh sun rays and in doing so prevents fading or discolouring.
Weather protection – Exterior shutters offer protection to your windows and security doors in Melbourne's western suburbs during rain and wind storms.
Energy saving – Shutters assist in insulating your home so heat or cool air you apply will be trapped inside. This can reduce your energy bill dramatically.
Light control and privacy – You have full control over the amount of light that gets into your home. Shutters can be raised, lowered and the slats can be tilted to allow more or less sunlight into a room. By simply tilting your shutter slats you can also enjoy great privacy inside your home.
Talk To Us About Getting Roller Shutters Installed Professionally in Werribee
Want to buy roller shutters in Werribee for your home or business? We welcome you to give our offices a call right now.
At UniBlinds we are happy to help you select the best blinds for your need. We have over 45 years of combined industry experience and are registered members at the Blind Manufacturers Association of Australia.
We also have a highly skilled and fully qualified installation team that can get your blinds installed professionally and quickly. All members on our crew are screened at the Members of NSSA in order to ensure home and business security while our professionals are working on your property.
For the finest quality blinds and professional shutter blind installation, you can certainly rely on UniBlinds.
Roller Shutters Online in Werribee
Improving the security of your home is a priority for many homeowners. It can give you the reassurance you need to sleep at night knowing that your home is secure. Installing roller shutters in Werribee home can help to protect the contents of your home and prevent unwanted intruders from entering.
At some point, all of us need to leave our homes. It could be when you need to go to work, do the school run or shopping, or when you go away on holiday. When you leave your home, you want to know that it is going to be in the same way you left it when you return. Uniblinds can help you to achieve this. We have a range of security features that can be added to your home without detracting from its style and character as many of our products are designed to complement your home.
How can Roller Shutters Enhance Your Home in Werribee?
If you are thinking about installing roller shutters in Werribee or replacing your canvas awnings on your windows, Uniblinds can offer you with a great solution. Our roller shutters are made from aluminium and, as such, are extremely difficult to break in through. They are fixed above your window or door and roll down when they are needed. This means that you can still open your windows when you choose to and roll them down when it is needed.
You could simply roll them down at night, when you are away from home, or when you want to shut out the light. They are easy to operate from the inside of your home, so it takes little to no effort to put them in place once they have been installed.
Like a canvas awning, our roller shutters can protect the contents of your home from sunlight damage that comes from the UV light, and they also prevent the contents of your home from being seen by those who are looking to break in and steal.
The advantage of choosing an aluminium roller shutter compared to a canvas awning is that you can also control the light and noise levels, along with the added security. This is great when you have small children who need to sleep, and you can rest assured that they are also safe.
With roller shutters, you can also look forward to better insulation. During the colder seasons, the heat will be kept in, and when it is warmer, you can shut out the heat and keep your house cool.
Further benefits include protection against the elements. When there is a storm, you can roll down your blinds so that your home is protected, and you can feel safe and secure inside.
They are fitted close to your home, and Uniblinds will come and measure your windows so that you get a secure fit and ensure that your blinds offer you the maximum protection.
Get Your Werribee Roller Shutters Measured Today
Do not leave the security of your home to chance. Uniblinds has 25 years' experience in the industry, and we are proud to have such a great reputation.
Some of the other areas we services are:
Visit one of our showrooms today or call us to get a free in-home consultation.
Get a Free Quote!
Get a Free In-Home Consultation!