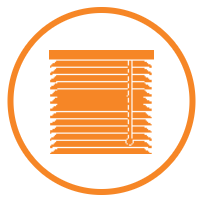 Security Doors in Altona
Security doors in Altona are a great way to add an extra layer of security to your home. Whether you are looking for a secure but practical door or a door that fits in with your home's aesthetic, we have what you need.
Get Your Security Doors in Altona from Uniblinds
At Uniblinds, we pride ourselves on our exceptional range of high-quality security doors in Melbourne. We offer a wide variety of innovative options to suit your needs and your preferences. So, if you're looking for security doors in Altona, look no further than Uniblinds.
Get a Free Quote!
25+ Years of Experience
Your One Stop Shop
5 Years Warranty
Free Design Consultation
Australian Owned & Operated
Check Out Our Security Doors in Altona Online
Whichever security door in Altona you choose, you can rest assured that you'll be getting exceptional products that are backed up with a 5-year warranty. Since 1991, we've become a leader in the supply and installation of quality doors, screens and window furnishings and have showrooms in both Melton and Epping.
If you do have any queries about our products, please get in touch by completing the online form or calling us on 1300 864 254. If necessary, we can also arrange an in-house consultation so that you get the perfect security doors in Altona and screens for your needs.
Get a Free Quote!
A Wide Variety of Security Doors Online in Altona to Choose From
At Uniblinds, we don't just offer you one style of security door online in Altona. In fact, we have such a great selection, we're sure you'll be spoilt for choice. Take, for example, our aluminium grill range. These lightweight but sturdy doors are available in both single and double diamond designs and a variety of mesh options and colours. They are a great choice if you're on a limited budget as they're stylish, perform well and are exceptional value.
If you're looking to make a statement, our Decoview laser cut security doors will do just that. These doors will add a real focal point to any home, and as they have been tested and comply with Australian standards, you can rely on their security performance.
Read More
For simple but stylish security doors, you can't beat the steel grill range. These doors are manufactured with fully welded one-piece steel insert grills that offer the ultimate protection. The electroplated zinc coating and powder coated finish mean that the doors are fully protected from the elements and won't suffer from rust or corrosion.
These are just some of the security doors online for Altona area. You may want to check out our other options, including the Cast Grill range which is made from 100% recycled aluminium, or the Heritage range which is perfect if you require moderate security but prefer a door that's in keeping with the look of your home.
If you favour stainless steel, our award-winning Clearshield door is the only perforated stainless steel security door system in Australia. These doors have been tested beyond the Australian Standards for Security doors and are extremely easy to maintain and keep looking good.
Alternatively, you may want to consider our Uniguard or Unishield doors which are made from a combination of perforated aluminium sheets and extruded aluminium frames. These are a great cost-effective alternative to stainless steel versions.
Don't forget to checkout our massive range of products including:
Get a Free Quote!
Get a Free In-Home Consultation!