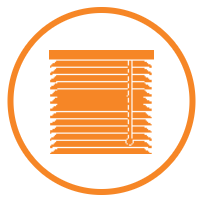 Security Doors In Brunswick
Welcome to Uniblinds (leading supplier of roller shutters in Melbourne). We are amongst Australia's leading suppliers of window furnishings, screens and security doors in Brunswick and wider Victoria. Established in 1991, we have 30 years of experience in the industry, a plentiful range of quality products and fantastic customer service.
Are You Looking for Security Doors in Brunswick?
We provide a variety of Brunswick security doors made from aluminium, steel and our award-winning Clearshield, giving us the power to provide a solution for everybody. Whatever level of security that you are looking for and whatever budget you are adhering to, we are able to find a security door to suit.
Get a Free Quote!
25+ Years of Experience
Your One Stop Shop
5 Years Warranty
Free Design Consultation
Australian Owned & Operated
Keeping Your Brunswick Home Secure and Your Mind at Ease with a Security Door
Purchasing a security door for your Brunswick home is a fantastic choice for many reasons. The most obvious is undoubtedly that it improves the level of security of your home. Not only does it reduce the chance of intruders being able to access your property, but it also discourages them from even trying. What better way to relax than knowing your property is secure, regardless of whether you are at home or away.
Investing in a security door Brunswick not only protects your home, it also increases the market value as it is a highly desirable trait in a property. As a result of the heightened security, you are also likely to see a reduction in the cost of home insurance – an added bonus!
With a large selection of security doors Melbourne and modern blinds in Melbourne are available at Uniblinds, we are able to provide a design that is stylish and keeps in line with the current decor of your home.
Get a Free Quote!
Our Level of Service Enables Us to Cater to All Security Doors Requirements in Brunswick
At Uniblinds, we adhere to a four-step process that guarantees a fantastic experience for each and every customer. Let's discuss each stage:
Step One – Initial Advice
This is where we get the chance to introduce ourselves and learn a little about you, your property and what you are looking for in a security door.
Step Two – Design Consultation
During this step, we speak in more depth to ascertain your exact needs, wants and budget before providing a number of recommendations of doors that we think best suit your requirements. Our experts are highly knowledgeable and experienced, remaining completely neutral throughout this process. Whilst we make recommendations with your best interests at heart, the end decision is entirely yours to make.
Step Three – Measure and Order
Once you have decided on the perfect security door for your home, we carefully take measurements and pass them onto our manufacturers to produce. Custom making every product, we are able to produce a door that fits your home like a glove.
Step Four – Installation
All of our installations are completed by our in-house team so you can rest assured that you will receive a professional and thorough service. Other products we offer besides security doors and blinds are modern shutter for your home.
Read More
Browse Our Brunswick Security Doors Collection Today!
What are you waiting for? Browse our security doors in Burnswick online or visit one of our Victoria-based showrooms to see the quality of our products for yourself. We look forward to meeting you soon.
We provide our wide range of products throughout Melbourne suburbs including blinds Brunswick.
Read Less
Get a Free Quote!
Get a Free In-Home Consultation!