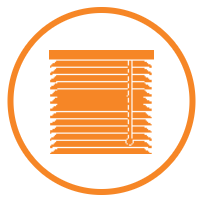 Security Doors In Campbellfield
Security doors in Campbellfield are key to protecting your home and family. Regular doors are easier to break open than we want to acknowledge, so being able to feel and be safe in your own home requires something stronger. But security doors don't have to look boring or uniform; at Uniblinds (leading supplier of blinds in Victoria), we have a wide range of different security doors Melbourne and blinds Melbourne to suit the style of your home and the levels of safety you require, as well as the budget available to you. We offer a free in-home consultation as well as free installation of your new door.
Get a Free Quote!
25+ Years of Experience
Your One Stop Shop
5 Years Warranty
Free Design Consultation
Australian Owned & Operated
Benefits of Security Doors in Campbellfield
Protect your home from unwanted intruders
Peace of mind and improved feelings of safety
Provide a deterrent for burglars, they won't even attempt to break open a security door
Last longer than regular doors
Lower your home insurance cost
Improve the value of your home
Get a Free Quote!
Our Security Doors For Campbellfield Homes
Our security doors for Campbellfield homes are all custom made when you make an order, ensuring you get the exact right style and the perfect size. The materials used are aluminium, steel and Clearshield stainless steel, all of which are incredibly sturdy and safe. All products come with a 5-year warranty and meet our high standards for quality. Our security doors include:
The aluminium grill range
The cast grill range
The steel grill range
The heritage range
The UniGuard range
The Unishield range
The Clear Shield range
The Decoview range
This wide range of options enables us to accommodate all your needs. Want something budget-friendly? We have that. Want some privacy from people being able to look inside your door? We have that too. Want something stylish that makes a statement? Oh, we have plenty of that!
Read More
Uniblinds Security Products in Campbellfield
We're a one-stop shop offering much more than security doors in Campbellfield. If you're in the market for some other home improvement products as well, then there's no need to go between different stores. Uniblinds also sell:
Fly doors and Uni-Screen retractable screens for protection from bugs
Internal blinds
External blinds, including canvas awnings and roller shutters
Best Secuirty Doors around Campbellfield: Ordering from Us
We're not limited to Campbellfield. We service most areas and provide specific product lines to suit your needs. Such as offering a wide range of blinds in Werribee to choose in different shades and styles. It begins with the initial advice and consultation, where your needs are assessed and a style is settled on based on the levels of security required, the budget and your aesthetic judgements. After that, we take the measurements for your new security door and custom makes it for you in one of our factories. We also take care of the installing, completely without any extra cost. We take the hassle out of picking a door, measuring your space, and finding a handyman to install it.
The free consultation can be booked online at our website or over the phone, but if you'd prefer to view the products in person, you can also visit one of our showrooms, which are in Melton and Epping.
Rest easier at night knowing you're safe with your security door from Uniblinds.
We provide our wide range of products throughout Melbounre suburbs including modern shutters.
Read Less
Get a Free Quote!
Get a Free In-Home Consultation!