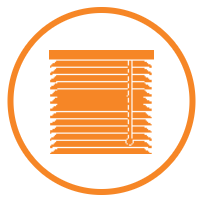 Security Doors In Caroline Springs
Investing in home security is becoming a more popular choice by the day, and it's also a very smart one. It can be difficult to figure out how exactly to keep your home and your family safe, but security doors in Caroline Springs are a great and often essential step. Uniblinds supply Melbourne with high-quality security doors, including a free consultation and free installation, making the process as simple as possible. We've been active for 30 years and have a 5-year warranty on all our products, so it doesn't get more trustworthy and experienced than that.
Get a Free Quote!
25+ Years of Experience
Your One Stop Shop
5 Years Warranty
Free Design Consultation
Australian Owned & Operated
Our Security Doors in Caroline Springs are the Best in the Business
You might think of security doors in Caroline Springs as generic and boring-looking, but that's far from true. We have a range of different security doors in Victoria, meaning you won't have to sacrifice safety for style, as there will always be a product that suits your house and decor. These look as stylish and inviting as any other door, but not to a burglar! We can also offer different options depending on what your budget is and what level of security is required. We currently have nine different ranges to choose from. There's no one size fits all when it comes to these things. The materials available are aluminium, steel and award-winning Clearshield perforated stainless steel. Best of all? All the doors are custom made, ensuring the size and style is always perfect.
Get a Free Quote!
Why You Need a Security Door in Caroline Springs?
A lot of security products on the market, including cameras and alarm systems, provide more monitoring than prevention when it comes to keeping your home safe. Security doors in Caroline Springs will not just show you an intruder's face, but they actively stop them from getting inside your house.
A lot of regular doors are thinner, less sturdy and more unsafe than we want to be aware of, making them extremely easy for anyone with the knowledge and experience to break into. Security doors are the opposite of this, providing a challenging obstacle for anyone brave enough to make the attempt.
Security doors serve a deterring purpose as well; most burglars will actively stay away from any house with a security door rather than even try to break it open.
These doors are stronger and more sturdy than regular ones, meaning they don't only serve a safety purpose, but will also last longer.
Having a security door will often lower the amount you have to pay for your home insurance, saving you money in the long run.
Installing a security door in Caroline Springs adds value to your house and will enable you to up the price and attract interest if you ever decide to sell.
Uniblinds Process of Security Doors in Caroline Springs
We're with you every step of the way. A purchase from Uniblinds (leading supplier of blinds in Melbourne), is done in four stages: in the first one, we offer our initial advice on what products would best suit you and your situation, the second stage is a design consultation, in step three we measure your space and order your door. Stage four is the installation, which is also handled by us. We service most areas and provide specific product lines to suit your needs. Such as offering a wide range of blinds in Werribee to choose in different shades and styles. Less work for you, but with all the security you're after. Book your free consultation on our website, or by calling us 0397479777 for the Melton office or 0394012217 for the Epping blinds office.
We provide our wide range of products throughout Melbounre suburbs including blinds in Donnybrook.
Read Less
Get a Free Quote!
Get a Free In-Home Consultation!