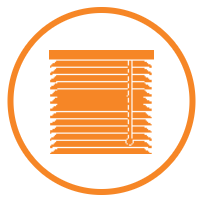 Security Doors In Coburg
Have you been thinking about upgrading your home's security? We all want to feel as safe as possible in our homes, but it can often feel difficult to know where to start. We supply and install security doors to Coburg and can help you add an extra layer of security to your home, so you can rest a little easier.
Get a Free Quote!
25+ Years of Experience
Your One Stop Shop
5 Years Warranty
Free Design Consultation
Australian Owned & Operated
Make Security Doors a Priority with Uniblinds in Coburg
Uniblinds is committed to helping you improve your home's security. Security doors in Coburg are an easy way to create an extra layer of protection for your home. They can also help maintain your privacy while adding value to your home. Having a security door provides a recognisable deterrent for anyone who may be looking.
Established in 1991, Uniblinds (leading supplier of security doors in Melbourne), has 3 decades of experience servicing residential, commercial and government projects. At this point in time, it's safe to say we know what we're doing! Our team is highly knowledgeable and qualified to very high standards. We always stay up to date on the latest products and trends, so you know that our collection of security doors in Coburg is the best of the best. Our installers are hired by us on a full-time basis, so you know exactly who is coming into your home to install your new doors.
Get a Free Quote!
Improve Your Family and Home's Security with Our Security Doors in Coburg
Whether you are looking to upgrade your current security doors in Coburg or are a complete newbie, you've come to the right place. We can help you choose security doors that are best for your home, as well as installing them. Home security is so important, so what are you waiting for?
Read More
Why Are Our Security Door Products Different in Coburg?
To start with, 90% of our products are Australian made so buying through us means you can support the national economy as well as reducing your carbon footprint! Knowing where the products that you are buying are sourced from or made can help give you that extra peace of mind when looking for security options in Coburg.
Our company is also a member of the NSSA, which stands for the National Screen Security Association. In addition to this, all of our Clearshield doors and screens are certified products. They have been tested and subsequently exceed the Australian Standards for security. We want to make sure that your home is as safe as can be and would never sell or install products that don't fit this purpose. Other products we offer besides security doors Melbourne and modern blinds Melbourne and roller shutters Melbourne for your home.
Buy a Security Door in Coburg
We know that keeping your home and family safe can be an extra worry on top of all of the other stresses that life offers. Give yourself that peace of mind you crave by investing in security doors for your home. Not only will you be able to rest a little easier knowing that you have done what you can to protect your home and maintain your privacy, but your home will also go up in value after installation.
To us, it seems like an obvious choice to make but if have any further questions or would like to enquire about any of our security doors, please get in touch, we would love to hear from you!
We provide our wide range of products throughout Melbourne suburbs including blinds Coburg.
Some of the other areas we services are:
Get a Free Quote!
Get a Free In-Home Consultation!