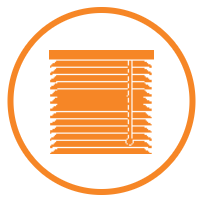 Security Doors In Deer Park
Looking for new high-quality security doors in Deer Park? Uniblinds & Security Doors in Victoria has grown to be a leader in the supply and installation of security doors across commercial, residential and government projects, with almost thirty years of experience. Our management team bring a combined 45 years of experience, so whether you're looking to secure your home or your residential building, you're sure to get the highest quality products. Uniblinds, began life as a small factory in Melton in 1991, then moved to larger purpose-built premises in 2010 and opened our first showroom. In early 2018 we expanded further and opened a new factory and showroom in Epping blind.
Get a Free Quote!
25+ Years of Experience
Your One Stop Shop
5 Years Warranty
Free Design Consultation
Australian Owned & Operated
Top Quality Security Doors in Deer Park
So, no matter your building or budget, Uniblinds are sure to have the product for you, as well as the technical know-how to install it and keep your home secure for many years to come. Our Deer Park security doors come in a range of materials: aluminium, steel and the award-winning Clearshield perforated stainless steel doors. We also offer a wide range of styles to suit all tastes, from more traditional doors to Decoview security doors. Browse our full range below and see what takes your fancy.
Get a Free Quote!
Browse Our Full Range of Security Doors for Your Deer Park Homes
If you're looking for well-made security doors in Deer Park which not only look great but do the job in terms of keeping your home safe, look no further than Uniblinds & Security Doors. We have a varied range of security doors on offer, including:
Aluminium grill range – lightweight but sturdy, available for both sliding and hinged applications
Cast grill range – available in contemporary and traditional designs, gravity die-cast in 100% recycled aluminium
Steel grill range – all treated with an electroplated zinc coating to protect against rust and corrosion
Heritage – perfect for prospective customers who want added security without compromising the heritage look of their home
Decoview – these laser-cut doors not only deliver on the aesthetics but also add screening and real security to your home
For more information on each type of security door, as well as the other products such as our blinds Melbourne there are on offer, navigate through the range below and make sure to also check out our roller shutter Melbourne collections. Browse through photos of our products being used in Australia and globally and get some inspiration for your next security project.
As standard, we offer a free in-home consultation, where one of our experienced specialists will visit you and discuss your ambitions for your home security. No obligation, no catch, just click the button at the top of the webpage. Other products we offer besides security doors and blinds are modern shutter for your home.
Contact us for Security Doors Today Near Deer Park
So, if you're looking for an efficient and cost-effective ways to add security doors in Deer Park home, contact Uniblinds & Security Doors today. Our friendly team are available from 9am till 4.30pm Monday to Friday, and 9am till 12pm on Saturdays. Call us on 1300 864 254, drop an email to info@Uniblinds.com.au, or fill in the contact form directly on our website. Make sure to follow us on Facebook to keep up-to-date with us.
We provide our wide range of products throughout Melbourne suburbs including blinds Tullamarine.
Read Less
Get a Free Quote!
Get a Free In-Home Consultation!