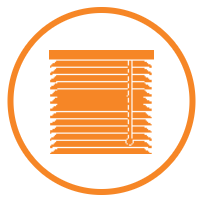 Security Doors in Donnybrook
The quaint suburb of Donnybrook is perfect for those in pursuit of an idyllic, rural lifestyle. If you have just established your new home in Donnybrook or are looking to enhance your existing home, consider installing Uniblinds' awnings, security doors in Donnybrook, roller shutters Melbourne or blinds. Donnybrook residents can enjoy greater privacy, sun protection and improved aesthetics of their home with the simple installation of the right shading or security solution, eliminating the need for costly renovations.
Get a Free Quote!
25+ Years of Experience
Your One Stop Shop
5 Years Warranty
Free Design Consultation
Australian Owned & Operated
Awnings and Security Screen Doors in Donnybrook
If you would like to enhance your home's appearance, privacy and sun protection, consider installing awnings and security screen doors at Donnybrook. This simple and functional window accessory can minimise the harsh UV rays that enter your home, while allowing for greater privacy for residents within the home.
Add instant street appeal and value to your property by installing awnings. Donnybrook locals should look no further than Uniblinds & Security Doors in Donnybrook for all their shading solutions – contact our team today for customised solutions.
Get a Free Quote!
Security Doors and privacy at affordable prices in Donnybrook
Those looking for a more customisable and complete privacy solution than awnings should consider Uniblinds' range of security doors Melbourne, available for your homes. We also have a range of roller shutters which allow you to adjust just how much light you would like to filter into your property, or even provide complete privacy by extending the shutters entirely.
Read More
Get your Security Doors in Donnybrook
Despite Donnybrook being a serene, quiet locale, homeowners should still take their security seriously. Uniblinds offer a range of security doors for Donnybrook locals, including Aluminium Range, Heritage Range, Colonial Range, Steel Grill Range and the Clearshield Perforated Stainless Steel Range. Our doors are built to stand up to a challenge, thereby also adding value to your property.
Improve your home's security and aesthetic appeal by installing awnings, blinds Melton, security doors or roller shutters from Uniblinds & Security Doors.
Security Screen Doors in Donnybrook
Everyone wants to rest easy at night or when they go away, and with our security screen doors Donnybrook home, you will be able to do just this.
Security doors can give you peace of mind and offer further protection to your home. With options to suit all budgets and tastes, Uniblinds is the place to get your security door and know that it has been fitted well.
Why Have Security Screen Doors Installed in Your Home in Donnybrook?
The word security sums up what these doors are all about. They can stop intruders from entering your home. Perhaps your local area has seen an increase in burglary, or you simply want to make your home more secure, a security door from Uniblinds is the ideal way to do it.
A security door in Donnybrook works by providing a strong outer door that would be incredibly hard to get through. Often, potential thieves that see a security door in place are deterred from entering because of the difficulty that would be involved with getting past it.
You need to consider all your weak entry points to your home, so make sure you do not also forget about other ways in around the back of your property.
With a range of designs available, you will be able to get a door that suits your home and does not look out of place.
Best of all, when you buy your security screen door in Donnybrook from Uniblinds, you can be confident knowing that your door has been custom-made and installed by our experts. This enhances the level of security that you will get from your door because it is made to fit your exact measurements.
Our skilled representatives can come to your home to measure and advise you about the best solutions for your security screen door. When we come back to install your door, it will be fitted by one of our full-time installers; we never contract out our work, and you can be sure that they are trained and experienced.
At Uniblinds, we have a range of security screen doors, including our:
Aluminium grill range
Cast grill range
Steel grill range
Heritage range
UniGuard
UniShield
ClearShield
Decoview
If you are unsure about the best type of security screen door for your home, our skilled representatives are on hand to talk you through your options. You can also come and visit one of our showrooms in Melton or security doors Epping to discover more about what they look like and how they function.
Contact us Today to Get Security Screen Doors That Work for Your Donnybrook Home
As experienced providers and installers of security screen doors in Donnybrook, you can trust Uniblinds to deliver an exceptional service every time. We have over 25 years' experience in the industry, putting us at the forefront.
Do not leave your security to chance but install a door that will protect you from intruders. Contact us today or visit one of our showrooms and rest easy at night.
Some of the other areas we services are:
Get a Free Quote!
Get a Free In-Home Consultation!