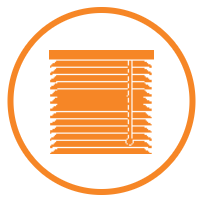 Security Doors In Doreen
Are you looking for the best security doors in Doreen? If so, you have come to the right place. At Uniblinds and Security Doors, we can help you to find what you are looking for, and we have a range of options so that you find something that suits your style and budget.
Choose from a Range of Security Doors in Doreen
The security of your home is important. You want to be able to go out and not worry about whether your home is being broken into. Whether you are out for a few hours, a whole day or away on holiday, a security door can strengthen your home's defences and give you peace of mind.
Get a Free Quote!
25+ Years of Experience
Your One Stop Shop
5 Years Warranty
Free Design Consultation
Australian Owned & Operated
Doreen Security Doors from Uniblinds
At Uniblinds (leading supplier of security doors in Victoria), we boast a fantastic range of security doors in Doreen that include aluminium and steel options, along with the award-winning ClearShield with its perforated stainless-steel design. We can offer you an at-home consultation where we will assess your security needs, whilst also listening to you to find out what you want and how you want it to look.
We can cater for all tastes, so whether you are after something traditional or contemporary, you will find it here at Uniblinds. You can benefit from our professional advice and know that you are spending your money well.
Did you know that a security door does not only increase the security of your home but also adds to its value? Should you ever come to sell in the future, a security door in Doreen is a welcome addition, and potential buyers will be attracted to a home that offers them the best defence for their home.
Get a Free Quote!
Leading Security Doors in Doreen: Choose an Experienced Company
When it comes to finding a company to supply and fit your security door, not all companies are created equally. When you choose Uniblinds, you can rest assured that our experience and knowledge put us at the top of our game.
We have 45 years of combined industry knowledge at the management level. Since we were established in 1991, our company has grown from strength to strength, and we continue to offer the same great service. We service most areas and provide specific product lines to suit your needs. Such as offering a wide range of roller shutters in Hoppers Crossing to choose in different shades and styles.
Read More
To give you the best experience, we employ our own full-time installers. They are qualified and insured, so you can look forward to expertly fitted security doors Doreen. On top of this, they are also police checked, so you can be sure that your home is in safe hands.
Our genuine customer testimonials can tell you more about our level of service and customer satisfaction. You can find them on our homepage.
We would also love to show you our security doors and let you see the quality for yourself. Come along to our showrooms that are located in Epping and Melton. We are open from 9 am until 4.30 pm Monday to Friday. We are also open on Saturday mornings. If you cannot make it to our showroom, you can browse through our range online at your convenience.
If you have any questions or you would like further information, please do not hesitate to get in touch. We look forward to seeing you soon.
We provide our wide range of products throughout Melbounre suburbs including security doors Sydenham.
Read Less
Get a Free Quote!
Get a Free In-Home Consultation!