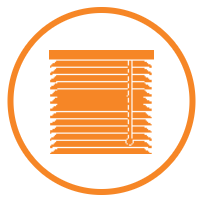 Security Doors in Epping
We all want peace of mind when it comes to our homes. With security doors in Epping, you can sleep peacefully at night knowing that your home is secure and has been given the best protection against break-ins.At Uniblinds, we have a wide range of home security doors in Epping, allowing you to find a stylish door that suits your home.
Get a Free Quote!
25+ Years of Experience
Your One Stop Shop
5 Years Warranty
Free Design Consultation
Australian Owned & Operated
Give your home the best defence with Epping security doors
For the best range of security screen doors in Epping, come and visit us at Uniblinds. You can view our range online to see the extensive range that we carry. We have two showrooms, including one in Epping, so we are conveniently located.
With Uniblinds, you can add style to your home, as well as security. What's more, a security door can add value to your home, so you can benefit from it both now and in the future, if you decide to sell.
Uniblinds have over 25 years of experience installing security doors in the western suburbs. We have full-time installers, so we do not have to contract out our work. We are also fully insured, so you can be sure that you are buying from the best. Whether you need security doors in Thomastown or blinds in Point Cook, we will be there to help.
Feel safe and secure with Security Doors in Epping
At times, we all need to leave the house. Whether you are popping to the shops, going to work or you are going away on holiday, you want to return to your house and see that it is the way you left it. There is nothing worse than returning home and discovering that you have been the victim of burglary. It can be truly devastating, as well as making you feel insecure in your home.
Read More
Even seeing a security door in Epping can deter burglars from attempting to break into your home. As thieves are often opportunists, they look for weaknesses in houses because they will be easier to break into. However, when you have a security door, it would take so much more effort to force entry.
With Uniblinds, you can help to secure your home with our steel security doors in Epping. You can choose an option from our range of steel grill doors and feel confident that you have a door that is strong and secure.
Security doors are designed to last and therefore they remain strong and offer your home great protection. As our grill doors are coated with electroplated zinc to protect them from whatever the weather throws at them, you can feel confident that your security door will stand the test of time. A door from us comes with a 5-year warranty for added peace of mind.
If you are worried that a security door will compromise the exterior appearance of your property, you can set your fears to rest. Nowadays, security doors have many stylish options that enhance the look of your home.
Read Less
Get a Free Quote!
Get a Free In-Home Consultation!