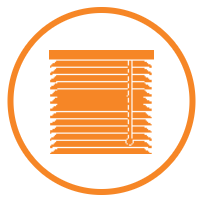 Security Doors In Essendon
If you are looking to improve your home security, then you have come to the right place. Here at Uniblinds (leading supplier of security doors in Melbourne), you can find quality, stylish security doors in Essendon to give you that peace of mind that your property is fully protected without ruining the aesthetic of your home.
Find Quality Security Doors in Essendon at Uniblinds!
Established over 25 years ago, we have grown to be a leader in the industry. Our highly qualified and experienced team follow strict procedures to offer you a service that is of a high standard of quality and professionalism. When it comes to security doors, few can compare to us here at Uniblinds.
Get a Free Quote!
25+ Years of Experience
Your One Stop Shop
5 Years Warranty
Free Design Consultation
Australian Owned & Operated
Benefits of Equipping Your Essendon Home with Security Doors
Security doors provide homeowners with a fantastic range of benefits including:
Protection against intruders
It is no secret that your doors are the first line of defence against a home invader. Usually, this is the first point of entry that they will try so it pays to invest in a secure door in Essendon. It also acts as a fantastic deterrent; often intruders won't attempt to enter the property if the security levels look to be high.
Added value to the property
Although security doors in Essendon are typically more expensive than other doors, think of it as an investment. Adding value to the home, they are a fantastic selling point and the increased security levels can reduce the premium on your home insurance policy.
Increased comfort levels
Knowing that your property is adequately protected with a quality security door makes it easier to relax both when you are at home and when you are away from the property.
Get a Free Quote!
Why Choose Uniblinds for Security Doors in Essendon?
Providing security doors that exceed Australian standards and top-level customer service, Uniblinds is second to none. Offering an array of products, you can browse a variety of our blinds Melbourne and doors and choose either aluminium, steel or award-winning Clearshield door to achieve the level of security and the aesthetic that you desire.
When choosing Uniblinds, you receive a personalised service that caters to your exact requirements. We take the time to discuss elements such as your budget and the level of security required before sending off your specifications for our manufacturers to custom-make your products.
Once your products have been produced and have passed quality assessments, the installation is completed by our in-house installation team. With certifications, insurance and years of experience, rest assured that you and your property are in the safest of hands.
Read More
From your initial advice, through the design consultation, measure, order and installation, we treat you with the utmost care and prioritise your individual needs, recommending the best products that meet your requirements. Other products we offer besides security doors and blinds are roller shutters Melbourne.
Find Your Perfect Security Door in Essendon Today!
Increasing numbers of Australians are choosing to protect their home with security doors and it is time for you to enjoy the benefits also. Currently offering a free measure and quote, there has never been a better time to choose Uniblinds. Browse our collection or visit our showroom today! We look forward to seeing you soon.
We provide our wide range of products throughout Melbourne suburbs including blinds Essendon.
Read Less
Get a Free Quote!
Get a Free In-Home Consultation!