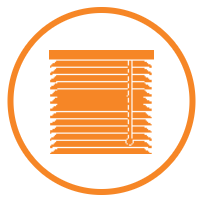 Security Doors In Greensborough
If you are looking for strong, durable and stylish security doors in Greensborough then you have come to the right place. Offering a wide range of doors, we are able to cater to all requirements and can provide a solution that suits all budgets.
Find the Best Security Doors in Greensborough at Uniblinds!
The best security doors in Greensborough are available in three materials; aluminium, steel and the award-winning Clearshield; you are guaranteed to find the perfect door here at Uniblinds. Using a four-step process, we arrange a consultation to discuss your requirements and offer recommendations that provide the best solution for your needs. Only when you are completely happy do we take measurements and place an order with our manufacturers to custom make your security door. Once produced, your door is installed by our in-house team. When you choose Uniblinds (leading supplier of blinds in Melbourne), personal and professional service is guaranteed every time.
Get a Free Quote!
25+ Years of Experience
Your One Stop Shop
5 Years Warranty
Free Design Consultation
Australian Owned & Operated
Security Doors Are a Fantastic Asset to Your Greensborough Home
Equipping your home with a security door in Greensborough can be a fantastic choice. First and foremost, it undoubtedly helps to protect your home from intruders. Your door acts as the front line of defence so it is important to invest in it wisely. Security doors not only prevent invaders from entering the property but also act as a deterrent, discouraging them from even trying.
Aside from increasing the security levels of your home, our doors provide other great benefits including:
The reduction of your home insurance premium due to added security
A fantastic selling point when you are looking to put your property on the market
Increased comfort and relaxation levels knowing your home is secure
A stylish addition to your home and improved aesthetic
Get a Free Quote!
Why Choose Uniblinds? Best Security Doors in Greensborough
Uniblinds offer an array of styles to provide you with amazing security doors in Greensborough. Discover our Grill range, UniGuard range, Clearshield range, Deco view range and more to achieve the aesthetic and level of security that you desire.
When it comes to security doors in Melbourne, screens and window furnishings, few compare to us here at Uniblinds. Established in 1991, we have grown and developed into the wonderful company that you see today, providing quality products and top customer service to residents in Greensborough and beyond.
Read More
We believe it is important to give back to the community so manufacture 90% of our products right here in Australia. This also enables us to offer fast turnaround times and reduces the risk of items becoming damaged in transit.
From your initial advice talk through to installation, you are in contact with Uniblinds. That's right, from start to finish, everything is completed in-house ensuring a top level of customer service. Our whole team are friendly, qualified, knowledgeable and have years of experience so you can rest assured that you are in good hands. Other products we offer besides security doors and blinds are blinds greensborough for your home.
Don't Delay, Protect Your Greensborough Home Today with our Security Doors!
It is never too soon to protect your home with a quality security door in Greensborough. Browse our collection online or visit one of our Victoria-based showrooms today. We look forward to seeing you soon.
We provide our wide range of products throughout Melbourne suburbs including blinds Sunshine.
Read Less
Get a Free Quote!
Get a Free In-Home Consultation!