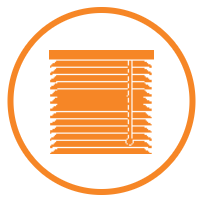 Security Doors In Melton
In 2017, there were 225,900 burglaries recorded across Australia – one every 3 minutes. This is a shocking statistic and it underscores the importance of thinking carefully about the safety of your home. If you want to take your home security seriously, you've got to get the best security doors Melton residents can find.
Of course, you'll also want to take every other possible measure to make sure that your belongings and your family is safe. If you're looking for the best home security provider that Melton has to offer, here's a closer look at Uniblinds and why we have such a strong reputation.
Get a Free Quote!
25+ Years of Experience
Your One Stop Shop
5 Years Warranty
Free Design Consultation
Australian Owned & Operated
Talk To Us About Security Doors In Melton
We are very confident in the ability of our security doors in Melton to protect your home and your family. As such, we offer a very generous 5-year warranty on all of our products. This gives you peace of mind and means that you can rest assured your product will last for as long as possible.
If you would like to discuss your security needs with us, please feel free to get in touch with us today. It would be our pleasure to offer you our advice and help you to find the road to the quality home security that you need.
Our dedicated team has been serving the community for over 25 years. In that time, we have installed the blinds in Melton esidents use to protect the various entry points on their home. We also have a wide range of experience installing blinds, roller shutters in Melton and other security features.
Get a Free Quote!
Premier Quality Security Doors for Melton Residents
When you've weighed up all the options, we are convinced that you will want Uniblinds to provide a quotation for your new security doors in Melton. The process is very easy but in order to get an accurate calculation, we would need to visit the property and take accurate measurements. Trying to guess or to work off second-hand measurements is a recipe for getting things wrong and we simply don't take that route. We don't send salesmen to your home, we don't operate in that way either. Our staff are all employed by us and are professional installation technicians, trained to assess your property and to pick up on any areas that could present problems or hold-ups to the work that needs to be done. For security doors to work at their best, they need to be correctly secured to the surrounding building.
Read More
Uniblinds provides quality security doors in Melbourne, screens & window furnishings and we offer our services in different location including blinds in Epping, blinds in Craigieburn & other suburbs. Browse our website further or contact us to learn more. Some of the other areas we offer our services are:
As we have already suggested, you could call us on 1300 864 254. One of our team will pick up and answer any questions you may have about your steel security doors for your Melton home. If appropriate, our technician will then make an appointment to call at your home and complete the measurements. Shortly after, we'll produce the quotation and you'll then have everything you need to proceed if that's what you want to do.

As an alternative, you could drop us a line via our Contact Page It's really simple, you just type in your details and we'll call you back with a few appointment dates to offer you. The visit itself usually only takes 30 minutes but obviously depends on exactly what Melton security doors you need and how many. The service is without any obligation and is completely free of charge. Pick up the phone or drop us a line today and we'll get you booked up for a visit.
Read Less
Get a Free Quote!
Get a Free In-Home Consultation!