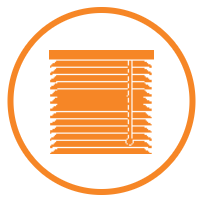 Security Doors In Mill Park
Are you looking for a security door in Mill Park, if so, you've come to the right place! We at Uniblinds (leading supplier of roller shutters in Melbourne), understand that your home, whether it's a studio flat or a five-bedroom house, is your palace and safe retreat from the world. With that in mind, it's understandable that you want to have the utmost confidence and peace of mind when it comes to your privacy and security. We provide an extensive selection of security and screen doors, meaning that, no matter your budget, desired aesthetic, or preferred material, we've got you covered.
Get a Free Quote!
25+ Years of Experience
Your One Stop Shop
5 Years Warranty
Free Design Consultation
Australian Owned & Operated
Looking for Security Doors in Mill Park?
One thing each and every one of our security doors in Mill Park has in common, however, is their durability and reliability, meaning you never have to compromise on safety or efficiency. We currently offer doors in steel, aluminium, and even an award-winning variety of Clearshield perforated stainless steel. Better yet, we don't fob you off with cookie-cutter stock that's been gathering dust on a shelf; all of our security doors are custom made to suit the exact specifications and needs of your home.
If you'd like to get an idea of what we do, why not have a look at our online catalogue of products and services, and our gallery of previous projects? Even the quickest of glances will reveal that we can provide you with whatever type of security door you might need, including fly doors, steel grill range doors, cast grill range doors, steel grill range doors, heritage range doors, Uniguard doors, Unishield doors, Clear Shield doors, and Deco view doors.
Get a Free Quote!
What are The Benefits of a Security Door for Mill Park Homes?
You wouldn't leave your car or safe unlocked, because you want to protect your valuable assets, right? Well, you and your family are the most important assets you'll ever know, and it's never worth compromising on your safety, or even the mental health benefits of knowing your home is completely secure. With a security door in Mill Park, you can rest assured knowing that nobody can enter your home without your say-so, thus protecting the people and valuables within. And you never need to compromise on aesthetics, either. In the past, security doors might have been obvious and unsightly – Uniblinds is combatting this impression every day with our sleek and elegant security solutions. Our innovative doors add value to your home while looking stylish and protecting its contents. Other products we offer besides security doors and blinds are modern shutter for your home.
Read More
Why Choose Uniblinds? Best Security Doors in Mill Park
For over three decades, we have reliably serviced residential, commercial, and government properties, and in doing so we've become an industry leader in the supply and installation of high-quality doors, screens, and window furnishings. Our passionate experts have over 45 years of combined industry knowledge and experience, and every member of our full-time staff adheres to strict quality control procedures throughout every step of your home improvement journey. More than that, they are highly trained, police-checked (since we understand that it can be intimidating to invite a stranger to work in and near your home), and we never use outside contractors. That way, we remain fully in control of the quality of our output, and this has gained us many satisfied repeat customers throughout the years. With Uniblinds, you're in safe hands.
Please feel free to book your FREE consultation today regarding your security door in Mill Park! Simply use the details on our website or reach out with any questions you may have – we'll be more than happy to help you!
We provide our wide range of products throughout Melbourne suburbs including blinds Mill Park.
Some of the other areas we services are:
Get a Free Quote!
Get a Free In-Home Consultation!