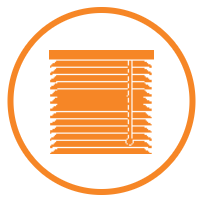 Security Doors In Point Cook
Did you know that in 2017, a burglary was committed in Australia every three seconds? It's a shocking statistic and it really shows that you should take the security of your property seriously. This means investing in the security features throughout your home.
If you want to make your home as secure and as safe as possible, you'll want to find the best products that are available on the market. This means working with the very best in the business. Here's a closer look at exactly why Uniblinds is so trusted when it comes to security products.
Uniblinds (leading supplier of security doors in Melbourne) has been installing security products all over the western suburbs, in locations such as blinds Epping & security doors Caroline Springs. Our installation experience spans many years, giving us the knowledge to combine home security with outdoor home appearances.
Get a Free Quote!
25+ Years of Experience
Your One Stop Shop
5 Years Warranty
Free Design Consultation
Australian Owned & Operated
The Importance Of Security In Point Cook
Are you looking for security doors or the best security doors Point Cook residents can find? Whatever your needs, you'll find that we are able to meet them. All of our products are of the highest possible quality and they are manufactured in Australia so that we can keep a close eye on quality control.
When it takes 75% of Australian burglars less than 5 minutes to break into a property, you've got to make sure that you have a strong and durable product that will stand the test of time. Ours as made using the finest materials and manufacturing methods.
By purchasing our security products in Point Cook, you'll also be supporting local businesses and suppliers. This helps you to support the people around you and play an important role in helping to keep Australia a special place!
Get a Free Quote!
A Simple Working Process in Point Cook
We understand that if you want to purchase new security features for your home, you'll want to make it as non-disruptive as possible. This means that you'll want to work with proven professionals who can offer you a simple way of working together.
Over the years, we have developed a very simple process that gets guaranteed results each time. From the security doors in Point Cook to our roller shutters, we follow the same process. Here's a closer look at that process.
Read More
Initial Advice
We call upon our many years of experience to give you the answers that you need. It's our pleasure to tell you more about our products, the best practice that you should follow and what the rest of the process will look like.
Design Consultation
We also understand that you want your security features to look as beautiful as they perform. This is why we are proud to offer our customers a free design consultation where one of our trained professionals will answer your questions and provide you with an amazing design.
Measure and Order
Once the details have been finalised, we'll set about creating the required measurements and placing the orders with our trusted suppliers. We make sure that you get only the very best materials for your home.
Final Installation
Once all of the materials have arrived, it's time for our talented professionals to install your chosen security features. This is a simple process and you can rest assured that we will work to the highest possible professional standards.
Start A Discussion About Security Doors In Point Cook Today
We have worked in our industry for over 25 years and in that time, we have learned a great deal. You can rest assured that when you work with us, you are choosing the best in the business.
If you would like to get started today, but sure to get in touch with us. You will find that we are friendly and attentive, ready to take your security door projects in Point Cook to the next level.
Read Less
Get a Free Quote!
Get a Free In-Home Consultation!