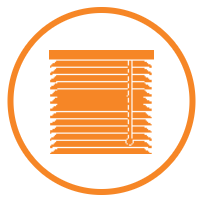 Security Doors In Preston
With security in mind for your property, you might be considering security doors in Preston to complete your home or office.
Improve Your Property with Security Doors in Preston from Uniblinds
The team at Uniblinds (leading supplier of security doors in Melbourne), have been helping Australians just like you to find the right screens, doors, and window furnishings for more than three decades. With the 45 years of combined experience from our management team, and highly qualified, experienced, and professional staff, we can help you find the perfect product no matter what you need. We offer high-quality products that meet strict quality controls, and our in-house manufacturing and installation services mean that you get end-to-end amazing service from an Australian family business that truly cares.
When it comes to security doors in Preston, you can rest assured that we will help you find the right product – at the right price – with our free in-home design consultation.
Get a Free Quote!
25+ Years of Experience
Your One Stop Shop
5 Years Warranty
Free Design Consultation
Australian Owned & Operated
Doors and Windows – Get the Security You Need in Preston
Although the security doors for Preston and beyond from Uniblinds are second to none, it is important to ensure that you have considered the need to secure the windows, too. Almost every item in our ranges can be designed for use on doors as well as windows – and with the knowledge and expertise of our team in your corner, you can get the right combination of design, price, and security. Other products we offer besides security doors and blinds are roller shutters Melbourne for your home.
Get a Free Quote!
Plain or Designed Security Doors in Preston – It's Your Choice
Thanks to our research and design work, we can offer security doors in Preston that are not only secure but have excellent aesthetic credentials too.
For some customers, we know that function is more important than the way it looks, but we can help you make sure that you get the best of both worlds – even on a budget.
The simplest option for security doors in Preston is the aluminium grill. Available in either a single diamond or a double diamond design mesh in a variety of colours, this is an effective security door that can be fitted on a hinge or as a sliding door. This door is lightweight yet sturdy, offering exceptional value for the budget conscious.
For those with a period property, the Heritage Range combines moderate security with a classic look that is in keeping with the heritage style of some older, more classic properties. This security door in Preston can have numerous design configurations and is crafted from durable but lightweight aluminium and can be fitted with an array of mesh options.
For those who enjoy the latest technology, the Clear Shield range is a security door in Preston that is not made from mesh but is perforated stainless steel. The only one in Australia, this door is easy to keep clean – and when it is free from dirt and dust, the building can benefit from great air circulation. We love the Clear Shield range because not only has it has been tested beyond the Australian Standards for security doors, but it has also award-winning too.
Why Choose Our Security Doors Collection for Preston Homes
Trust Uniblinds for the best security doors in Preston – call us today to arrange your personalised, no-obligation design consultation.
We provide our wide range of products throughout Melbourne suburbs including blinds in Preston.
Read Less
Get a Free Quote!
Get a Free In-Home Consultation!