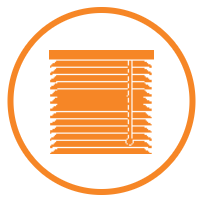 Security Doors In South Morang
If you've been searching for a high-quality, aesthetically pleasing security solution in South Morang, Uniblinds (leading supplier of roller shutters in Melbourne), has you covered. Your home is one of your most valuable assets and contains the people and possessions most important to you in the world, including yourself. For that reason, it's never worth compromising on safety – especially when you have a stylish, affordable, and reliable solution at hand. We have a collection of the best security doors for South Morang homes.
Get a Free Quote!
25+ Years of Experience
Your One Stop Shop
5 Years Warranty
Free Design Consultation
Australian Owned & Operated
Durable, Reliable Security Doors in South Morang
We at Uniblinds have over 45 years of combined experience and have worked together now for 35 years. What we don't know about security doors, screens, and window furnishings isn't worth knowing. From your free, in-home consultation, right up to the day you reveal your finished remodel, we'll be there to guide, advise, and uplift you. Each and every one of our full-time installers is highly knowledgeable, vetted, and police-checked, and every member of our family adheres to strict quality control procedures. This attention to detail and unparalleled customer service has secured us the return business of many satisfied customers, and we'd love you to join their ranks!
Get a Free Quote!
So, Why Do You Need a Security Door in South Morang?
Well, would you leave your car or your safe unlocked? Probably not, right? That's because you want to protect your vehicle and your valuables. But you and your family are the most important assets you'll ever know, so why drop the ball when it comes to your residential security? It's simply not worth it. And if you're concerned about unsightly bars or ugly materials, please don't worry – the industry has come a long way since those days!
We at Uniblinds work every day to counteract the impression that security features are obvious and ugly; we consider our South Morang security doors to be discreet, aesthetically pleasing, sleek, elegant, and highly adaptable to your needs and wants! That's because we believe nobody should miss out on security or peace of mind, no matter your aesthetic, budget, or preferences. In accordance with this belief, we've created an extensive catalogue of products and services, among which you're guaranteed to find something that suits you and your home. Other products we offer besides security doors Melbourne and blinds in Melbourne are modern shutter for your home.
Read More
What Security Doors Does Uniblinds Offer for Your South Morang Homes?
We can provide you with any type of security and screen door in South Morang you might need, including fly doors, steel grill range doors, cast grill range doors, steel grill range doors, heritage range doors, Uniguard doors, Unishield doors, Clear Shield doors, and Deco view doors. Using our website, you can read about the respective advantages and styles of each type to help with your decision making.
We don't bring a cookie-cutter approach to our work; you'll never be fobbed off with pre-cut doors that have been gathering dust on a shelf. Each of our doors is custom made to suit your individual specifications and needs, so you can be sure you're getting a completely unique and high-quality finished product.
Please feel free to book your FREE in-home consultation today or get in touch via the contact details on our website to ask any questions you might have – we'll be happy to help!
We provide our wide range of products throughout Melbourne suburbs including blinds South Morang.
Read Less
Get a Free Quote!
Get a Free In-Home Consultation!