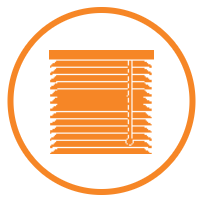 Security Doors In St Albans
Whether you are looking for security doors in St Albans for a residential home or a commercial property, Uniblinds can help you find the solution to suit your needs.
Uniblinds – the Best Choice for Security Doors in St Albans
Established in 1991, every single part of our manufacturing and installation team are trusted experts in all things doors, screens, and window furnishings – and with more than 45 combined years of industry expertise from our management team, we have been helping Australians just like you to complete their properties with the perfect finishing touches.
When it comes to security doors in St Albans, there are many options that may or may not be suitable for your needs, and we are here to help you decide what suits your property best.
Get a Free Quote!
25+ Years of Experience
Your One Stop Shop
5 Years Warranty
Free Design Consultation
Australian Owned & Operated
What to Look for in a Security Door in St Albans
Deciding about what security door in St Albans or beyond to use is much easier when you know what you are looking for. There are different criteria that you might want to think about when you are researching, and this includes:
What level of security do you need? Different materials have different levels of security that are part of the design – and if you don't need a strong security system, then you can look for a perhaps cheaper material or design that might be more suitable.
What material will suit your needs most? Security screens can be made from aluminium or steel, and each has different properties that make a difference to weight, ventilation and even the design options.
How do you want it to look? Design is as important as function in many cases, especially in residential properties, so thinking from an aesthetic perspective might help you decide what suits the property – and your needs – the best.
Get a Free Quote!
Find Your Perfect Fit in St Albans Security Doors Collection
Here at Uniblinds (leading supplier of security doors in Victoria), we have the best combination of security and design features throughout our range of security doors in St Albans and beyond. From the Aluminium Grill range for the budget-conscious to the Heritage Range for those who have an eye on aesthetics, every type of security door in Melbourne, we manufacture and install is designed to be practical, simple to use, and of great value.
Read More
As part of the unbeatable customer service, we offer as experts in our field, we offer free, no-obligation design consultation on the premises. This means that we can see for ourselves the space that is available, the features of the doorframes and window frames, and can advise you on the best option from our range of security doors in St Albans.
It is important that you feel comfortable throughout the whole process, and that is why we ensure that all our qualified staff are not only experienced but also fully police checked. We understand that security is important – not just for doors and windows – and we are part of the solution to make you feel safer. Other products we offer besides security doors and blinds are modern shutter for your home.
Why Choose Our Security Doors Collection for St Albans Homes
Challenge us to find the perfect security doors in St Albans for your home or business, and find out more about the choice of screens, roller shutters, blinds Melbourne, and security doors that we can offer you.
We provide our wide range of products throughout Melbourne suburbs including blinds St Albans.
Read Less
Get a Free Quote!
Get a Free In-Home Consultation!