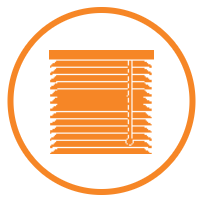 Security Doors and Screens In Sunbury
Security has never been a more relevant issue than it is today. With daily news reports of break-ins and crimes committed against homeowners, more and more Australians are turning to tougher measures to keep themselves safe at home. At Uniblinds, we have been installing high-quality blinds and security solutions for almost three decades. When it comes to security blinds in Sunbury, low calibre products or ineffective installation can save money in the short term but take an exceedingly high toll in the long term. We have the industry-leading products and the dedicated client service that you are looking for to get the job done right the first time.
Get a Free Quote!
25+ Years of Experience
Your One Stop Shop
5 Years Warranty
Free Design Consultation
Australian Owned & Operated
Are You Considering Security Blinds In Sunbury?
Over the years, we have seen the devastation that can be caused by a low level of home security. Heavy gates that are easily ripped or lifted off their hinges and roller blinds that are too easy to open without alerting anyone are just some of the substandard measures put in place that are doomed to fail. Unfortunately, we have received a large amount of custom from families who have just suffered a break in and are trying to protect themselves after the fact. It is all too easy to prevent these dire circumstances from happening in the first place by purchasing the correct blinds or security doors in your Sunbury home.
Get a Free Quote!
Why You Need Doors in Sunbury
Crime against property is a serious problem with break-ins on the increase. To guard against anything happening to you, it's important you install security doors in Sunbury that will be effective against potential intruders.
It is a fact that most thieves are opportunists who look for easy targets. Therefore, the more you can do to persuade them that your property is difficult to break into, the more likely they are to not make any attempt. This means that any measures you take not only have to be effective, but they also should be obvious so that thieves are aware of them such as roller shutters in Craigieburn.
Installing a prominent alarm box, warning labels and CCTV cameras will help because thieves know the threats they pose. But it's also equally important to ensure your doors and window shutters in Doreen are secure with comprehensive locking systems. The doors to your property are obvious points of access so strong security doors will make plain that the entrances are difficult to access,
Although your aim is to deter intruders and avoid damage and inconvenience, it is important that your security works if thieves do try to break in. So choose a security door that is strong and durable to prevent thieves gaining access. Also, ensure it is professionally installed by us so there are no weak points.
Don't take risks with crime. Order a security door from Uniblinds today.
Premium Security Doors in Sunbury At Great Value
Today you can ensure that no one gets into your home without your express permission by installing a Uniblinds security solution. We have everything you need from security blinds Melbourne and roller shutters Melbourne to screen doors and security doors in Melton. We offer great products at a price that is both competitive and affordable. We are committed to helping our client's keep their families safe without ruining their savings. Installation takes no time at all and we cause no interruption to your home life.
Read More
Our Security Doors In Sunbury Come With Warranties
If you are looking for the very best security doors in Sunbury, then you simply can't make your decision until you have seen what we can offer you. Uniblinds is the one stop shop for all outdoor blinds and security doors. We have the experience, the technical prowess and the dedicated client service that you are looking for to improve your property. Everything that we install comes with a warranty of five years so you can rest assured that your home is in good hands. If you are not certain about the quality of our work we hope you will browse through some of our past client testimonials to get a better sense of what you can expect from working with us. You can arrange your free consultation online or over the phone; we will take your details and provide you with a no-obligation quote for installation. We look forward to hearing from you.
Take a Look at Our Security Doors Near Sunbury
You cannot put a price on the security of your home. Your home should be somewhere that you feel safe and secure, and you want to know that you can come home to find it exactly how you left in. With security doors in Sunbury from Uniblinds, you can look forward to having added peace of mind both when in and out of your home.
At Uniblinds, we have a range of award-winning Clearshield perforated stainless steel, aluminium and steel security doors near Sunbury, and any one of them could make the perfect addition to your home.
Make Your Home the Safest Place With Uniblinds Security Doors in Sunbury
No matter what type of home you live in, we can find a security door in Sunbury to suit you. With our range of styles, we have doors to suit all tastes and budgets, giving you the peace of mind you need to sleep soundly at night or when leaving your home.
As our doors are custom-made, you know that your door is measured to fit perfectly, providing the ideal solution to any weak entryways to your home.
Security doors work by being an extra barrier to get into your home. They are usually stronger than other external doors, which can make breaking and entering more difficult. With security screen doors near Sunbury from Uniblinds, you can be confident that your door will stand the test of time and it comes with a 5-year warranty for further reassurance.
Not only this, but security doors often act as a deterrent to burglars. When someone is looking to target a home to break into, homes with security doors are much less appealing because they are harder to get into, they would take more time and may attract attention due to the noise.
Having a security door does not need to make your home look ugly or like a prison. Nowadays, there is a fantastic range of fashionable security doors that can improve the appearance of your home, as well as making them more secure.
Furthermore, a security door is a great investment both for now and in the future. You can immediately benefit from adding a security door because your home will be stronger and less likely to be broken into. On top of this, if you ever come to sell in the future, your home could be more valuable because buyers like homes with added security features.
Plenty of Options for You to Choose From Sunbury Screens & Blinds
The security of your home should not mean that you have to compromise on aesthetics. At Uniblinds, we have many different options to suit our customers. So, whether you are after something sleek and modern or you prefer a more traditional design, you will love our screens and doors in Sunbury.
Our screens and blinds for Sunbury also come within various price ranges, and we can help you find one that is right for your budget.
We have a range of aluminium and steel security doors, along with fly doors to prevent those pesky bugs from entering your home.
Along with this, we have internal and external blinds that can make your home more comfortable and secure. Your blinds can give you that extra privacy you are craving, and by stopping others from seeing in, they will not see the contents of your home.
Our roller shutters give you plenty of features that you will love. As well as providing you shade, they can increase the security of your home, as well as giving you better insulation. It is not only good for the environment, but it could save you money on utility bills too.
All our products are made and installed to fit your windows and doors exactly, and they are installed by our professionals. With expert installation from our qualified installers, you can get the most from your screens and blinds. They are also fully insured and have a police check for your peace of mind. Other areas we cover are security doors in Doreen as well as advanced roller shutter doors blinds across Melbourne.
Roller Shutters in Sunbury That Last
It's one thing selling roller shutters in Sunbury that look good but it's a whole new ball game when it comes to supplying and installing shutters that are practical, stylish and durable.We've been in business since 1991 and we've learned to create the highest quality shutters on the market. We know what the best materials are and we follow the best manufacturing techniques whilst keeping in line with strict quality control measures. Our team is the best in the business and all our staff are fully insured and police checked for your peace of mind.
Providing you with Sunbury's best range of security doors
You can browse through our range of doors online or come and visit one of our showrooms and view our home security doors near Sunbury. We would love to share our expertise with you. As we have over 25 years' experience installing security doors in the western suburbs, we are a company that you can rely upon to give you the best advice.
We also offer a free in-home consultation where we will come and assess, measure and offer you recommendations on the best type of door for you. Whether you need blinds in Bacchus Marsh or security door Tarneit, we will be there. Contact us today and feel more secure in your home.
Read Less
Get a Free Quote!
Get a Free In-Home Consultation!