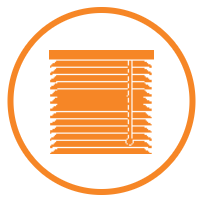 Security Doors In Tarneit
When it takes 75% of burglars in Australia less than 5 minutes to force entry to a property, you've got to put everything that you can in their way. This means that you should install the very best security features that you can afford.Are you looking to protect your home and your family with high-quality metal security doors Tarneit residents trust? You'll want to find the best possible provider who can match your needs.
UniBlinds (leading supplier of security doors in Melbourne) has been working across the western suburbs, installing security products for homeowners for many years. We've been working on houses from Epping blinds to security doors in Thomastown. We know what it takes to deliver reliable security doors in western suburbs and shutters that will keep your home safe.
Get a Free Quote!
25+ Years of Experience
Your One Stop Shop
5 Years Warranty
Free Design Consultation
Australian Owned & Operated
Our Metal Security Doors In Tarneit Have Proven Results
Our team has been in the game for over 25 years and in that time, we have developed our business in a few key areas: our products, our expertise and our prices.
This means that firstly, we are able to offer the very best metal security doors Tarneit residents can rely on to protect their property. We have made a range of modifications and improvements over the years so that by now, our products are the best on the market.
Our fantastic expertise also means that we are able to install your security items without any problems at all. All of the practical work will be performed perfectly to ensure that your home is as secure as possible and that your products last for many years to come while performing reliably.
Finally, our experience also means that we are able to offer fantastic pricing on our products. We have developed close ties with our suppliers, and this means that we use the best materials at the best prices – we never sacrifice on quality and it shows.
Get a Free Quote!
Australian Owned and Made Home Security Doors in Tarneit
We know that many people in Australia are passionate about supporting local businesses and local workers. When you shop with us, you can rest assured that all of our products are made here and that our business is Australian owned.
When you shop with us, you're playing an important role in helping to protect our local economy and maintain a superior level of quality when it comes to home security products in Tarneit.
Read More
We know that you are placing a huge amount of trust in our products. You're relying on them to protect your home and your family, and we always deliver on our commitment to your safety. As such, we are very confident in the quality of our products and it's our pleasure to offer you a five-year warranty on all of our products.
This means that you can rest assured our products work effectively and that we are here to address any issues that you might have.
What is a Security Door?
We also sell security doors. These are different from standard doors as they're much safer. They're stronger and sturdier, often made from steel or aluminium, and have better lock systems, making them impenetrable even for the most seasoned criminals. Just locking your front door isn't enough to keep people out, even though it might seem that way. Security doors are an essential part of a good home security system and keep your home and family safe from burglars and everyone else with bad intentions. Our security doors aren't just protective, but they're also stylish and can be made to fit any home. They last longer than regular doors and will also increase the value of your home in case you ever decide to sell.
Talk To Us About Security Doors In Tarneit Today
Are you ready to install home security doors Tarneit residents can trust? Working with us is simple.
Our process begins when we give you all of the initial advice you need before our expert designers work to create a great design that fits your needs. Next, we work to measure and order your materials before installing them.
Does that sound good to you? Be sure to get in touch with us today to get started.
Read Less
Get a Free Quote!
Get a Free In-Home Consultation!