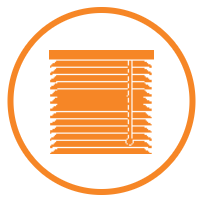 Security Doors In Taylors Lakes
Founded in 1991, Uniblinds (leading supplier of roller shutters in Victoria), is a leader when it comes to supplying Taylors Lakes and the rest of Melbourne with security doors, blinds and retractable screens. If you're looking for ways to protect your home and your family, you need a security door in Taylors Lakes, and we're the people to go to. We're with you every step of the way, from initial advice and in-home consultation to installation. We have a wide range of different security doors, all custom made to suit your budget, house and specific security needs.
Get a Free Quote!
25+ Years of Experience
Your One Stop Shop
5 Years Warranty
Free Design Consultation
Australian Owned & Operated
Protect Your Home with Security Doors in Taylors Lakes
Crimes occur even in the safest neighbourhoods. Locking your front door might seem like enough, but it's actually not much of a challenge to the experienced burglar. Most doors are weak enough that anyone with the right tools can make their way inside, from burglars and squatters to people with even worse intent. You risk loss of property and injury, not to mention the inescapable trauma of having had a stranger enter your home without your consent. Maybe you've already experienced this, and that's why you want a security door in Taylors Lakes. You have the right to feel safe in your own home, and that's a difficult feeling to achieve once you've had something like that happen to you. Even if you haven't, that feeling of safety might be no more than a feeling if you don't have a security door.
Get a Free Quote!
Leading Security Doors in Taylors Lakes: Why Go with Us?
We have 30 years of industry experience, and all our staff is highly qualified and fully ensured
We have two different offices, in Melton and Epping, allowing us to serve large parts of Melbourne
Our products all come with a 5-year warranty
90% of our products are produced in Australia, reducing the impact we have on the environment
You can see our doors in person at one of our showrooms, meaning you don't have to make this important decision based on pictures
Consultations, including measurements and quotes, are completely free, and so is installation
We have a wide range of different choices of modern blinds to accommodate for all styles, budgets and needs
Security Doors in Taylors Lakes: A Few Frequently asked questions
Q: What are your opening times?
A: We're open Monday to Friday, from 9 am to 4.30 pm, and Saturdays from 9 to 12.
Q: Which areas do you serve?
A: We're based in Melbourne, Victoria, and more specifically we have one office in Melton and one in Epping blinds office, enabling us to serve most of Melbourne. If you want to know if we serve your area, your best bet is to get in touch through the website. We service most areas and provide specific product lines to suit your needs. Such as offering a wide range of roller shutters in Werribee to choose in different shades and styles.
Q: How do I get in touch?
A: You can email us at info@Uniblinds.com.au or call the Melton office at 0397479777 or the Epping office at 0394012217. There's also a contact form you can use on the website.
Q: How safe are the doors?
A: The levels of security of our doors varies depending on your needs. Some are stronger and safer than others, and are more suited to urban areas, while others are less safe, and are adequate protection for homes that are far from civilisation or in very safe areas.
Book Your Free Consultation for your Security Doors in Taylors Lakes with Uniblinds
To get a free in-home consultation, including advice, measuring and a quote for the door of your dreams, get onto our website and fill out the form and a member of our team will be in contact to make your home safer.
We provide our wide range of products throughout Melbourne suburbs including security doors caroline springs.
Read Less
Get a Free Quote!
Get a Free In-Home Consultation!