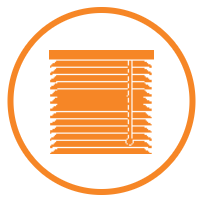 Security Doors In Tullamarine
When you need to leave home, or you are sleeping at night, make sure that your home is secure with our range of security doors in Tullamarine.
Secure Your Tullamarine Home with Security Doors
Security doors in Tullamarine can give you peace of mind knowing that your home has the best protection against intruders and that your home will be how you left it when you return. At Uniblinds (leading supplier of blinds in Melbourne), we have a wide range of styles to suit all tastes and budgets so you can easily find one that complements your home and gives you what you need.
Get a Free Quote!
25+ Years of Experience
Your One Stop Shop
5 Years Warranty
Free Design Consultation
Australian Owned & Operated
What are the Benefits of Installing a Security Door in Tullamarine?
Security doors in Tullamarine are designed to keep intruders from entering your home, but that does not mean that they have to look ugly. Security doors have come a long way, and there are many options available to fit seamlessly with your home.
They are usually made from the strong materials of aluminium or steel with traditional or contemporary designs. As they come in a range of colours and finishes, it has never been easier to have the security that you want.
Get a Free Quote!
Visit or contact us at Uniblinds today for Security Doors in Tullamarine
A security door can also be a visual deterrent to potential thieves. The sight of a security door tells a burglar that you take security seriously, often meaning that they give up and move elsewhere. If they do decide to attempt a break-in, it would take a lot of effort, and the noise that it would make should raise the alarm.
Another benefit is that security doors are designed to last, so you can look forward to your door lasting for many years and still looking great.
Read More
As well as this, your security door will add value to your home, making them an investment worth making. While you are living in the home, you can look forward to having enhanced security, but even if you choose to move on at some point in the future, you can recover some of the cost with the value of your home going up. It can also be an attractive feature to buyers who understandably want a safe home to live in.
At Uniblinds, you can choose from our aluminium grill range, cast grill range, steel grill range, Heritage range, UniGuard, UniShield, ClearShield and Decoview. If you want any support in choosing the best door for you, our skilled representatives are there to help, offering you invaluable expert advice.
If you are looking for security doors in Tullamarine, look no further than Uniblinds for a great experience and a quality door. With our excellent reputation and over 25 years in the industry, you can trust us to do an excellent job.
Our doors are tailor-made to your measurements because this gives you the best security. You will not receive an off-the-shelf door or ready-made door.
Some of the other areas we services are:
We can get you the door you need at the most cost-effective price. Come and visit us today at our showrooms in Epping blinds and Melton or call us today for a free at-home consultation. We look forward to seeing you.
Read Less
Get a Free Quote!
Get a Free In-Home Consultation!