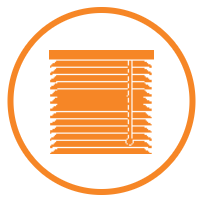 Security Doors In Wallan
If you have been thinking of investing in some new security doors in Wallan, you have come to the right place. At Uniblinds (leading supplier of roller shutters in Melbourne), we have security doors to cater to every home and need, including your budget and the level of security you require.
Looking for Security Doors in Wallan?
Improve the level of security to your home and your family by installing security doors in Wallan that get the job done. We have an extensive of security doors for you to browse to find the best match for you and your home.
Get a Free Quote!
25+ Years of Experience
Your One Stop Shop
5 Years Warranty
Free Design Consultation
Australian Owned & Operated
Improve Your Home's Security in Wallan
Since its establishment in 1991, Uniblinds has grown into an industry leader and become one of the most trusted places for security doors in Wallan. With our management having over 45 years of combined experience, our team at Uniblinds is a fountain of knowledge. Our years of experience have allowed us to become experts in the field, using the highest quality products and always applying the industry best practice. Our staff are all qualified to a high standard and our employment standards follow strict quality controls and procedures for manufacturing and installations.
Get a Free Quote!
The Uniblinds Difference. Best Security Doors in Wallan
Now you know the depth of knowledge and high standards our staff hold; you may be wondering what sets our product apart from the rest? Apart from having a large collection of security doors in Wallan ready for you to choose from, this collection includes different security doors in Melbourne that can fit into any list of requirements. If you have a tighter budget, for example, we have catered to that, so that everyone can afford to invest in a security door, no matter the set criteria you come to us with.
We have our own full-time installers, so you can feel peace of mind when having your new door installed. Our years of experience mean we have an amazing reputation and have got our service and installation down to a fine art.
Read More
Even though we've been around for 3 decades, that doesn't mean we don't keep up to date on the latest trends and products! We move with the times, and that shows in our products collection. Of these products, 90% are Australian made, helping to support Australian businesses and reducing our carbon footprint in the process. In addition to this, we like to prove the worth of our products, and our Clearshield doors and screens are certified, having been tested and exceed the Australian Standards for security. Other products we offer besides security doors and modern blinds Melbourne are modern shutter for your home.
Security Doors in Wallan You Can Trust
Join the leagues of happy customers we have and trust Uniblinds to service and install your new security doors in Wallan. Give yourself and your family some extra peace of mind, not only with your new doors but also in knowing the service and installation will go smoothly with our highly knowledgeable team.
If you've been thinking of installing security doors, now is the time! Get in touch with us at Uniblinds if you have any further questions concerning any of our security doors and we will be happy to do all we can to help.
We provide our wide range of products throughout Melbourne suburbs including blinds Wallan.
Read Less
Get a Free Quote!
Get a Free In-Home Consultation!