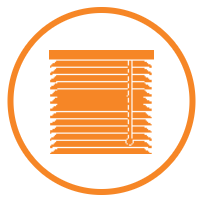 Security Doors In Werribee
The security of your home is paramount. It means that you can sleep soundly at night, knowing your home is secure. When you go away on holiday, or you are out for the day, you can have better peace of mind knowing that you will come back to your home the way you left it.
Choose Security Doors for Your Werribee Property
That is just what security doors in Werribee can do for your home. At Uniblinds, we specialise in providing you with the right security measures for your windows & security doors in Victoria. By securing any weak entry points, your home has the best possible defence.
Get a Free Quote!
25+ Years of Experience
Your One Stop Shop
5 Years Warranty
Free Design Consultation
Australian Owned & Operated
A Range of Security Doors to Suit Your Style and Budget for Your Werribee Home
At Uniblinds (leading supplier of security doors in Melbourne), we know our customers are different. That is why we have a large range of security doors for you to choose from.
What's more, we are more than happy to give you our professional advice about the best security doors in Werribee for you. We listen to your needs, and we can also assess your home's security requirements during an at-home consultation. By doing this, you can rest assured that you have the right door for you and that you are investing your money sensibly.
With a security door, your home's value may also increase. If you ever come to sell in the future, buyers often look for homes that are secure and will provide their family with the protection they need.
Get a Free Quote!
Leading Security Doors in Werribee: Visit Our Showroom Today
If you are after a contemporary or traditional style for your security door, we are sure to have one that you will love. We have steel and aluminium options depending on your budget. Along with this, we can also supply you with the award-winning ClearShield security door with its perforated stainless-steel design.
To ensure an exact fit for your security door Werribee, your door will be custom-made for you. We offer a free measure and quote service so that we can make it for you.
Along with this, we also offer professional installation. Our team is made up of full-time installers who are employed by us, and we do not outsource the work. They are qualified, fully insured and have had a police check for your peace of mind.
We are so confident about the quality of our doors that your new security door will come with a 5-year warranty.
Read More
Get our Strong Security Doors in Werribee Today!
To find out more about the quality of our doors, come and visit us in our showroom. We have showrooms in both Epping blinds and Melton, and our friendly staff would love to show you around.
With over 25 years of experience, we are the company to fit and supply you with the best security doors in the area. We service most areas and provide specific product lines to suit your needs. Such as offering a wide range of roller shutters in Werribee to choose in different shades and styles.
If you have any questions in the meantime, or you would like to book an at-home consultation, please do not hesitate to get in touch. You can call us, email us or complete our online form, and we will get back to you. We look forward to seeing you soon.
We provide our wide range of products throughout Melbounre suburbs including security screen doors Donnybrook.
Some of the other areas we services are:
Get a Free Quote!
Get a Free In-Home Consultation!