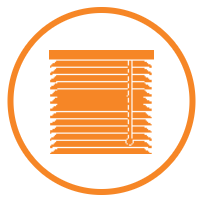 Security Doors In Melbourne's Western Suburbs, VIC
Keeping your home safe and secure is the top priority for any property owner or tenant. Home is where the heart is and where you and your loved ones sleep in comfort at night. There is nothing worse than the thought of an unwanted intruder gaining entry to your house and disrupting your lives by taking valuables and causing great upset. Fortunately, there is a quality one-stop solution that will guarantee your safety and peace of mind. Modern security doors in Melbourne's Western Suburb are the be all and end all of physical home security. They are a steadfast barrier that keeps those on the outside out, and those on the inside protected. At Uniblinds, we have been supplying and installing first-rate blinds and security doors in Australian homes for nearly three decades. Thanks to our technical expertise and dedicated client service, we have become a trusted name for home buyers and renovators.
Get a Free Quote!
25+ Years of Experience
Your One Stop Shop
5 Years Warranty
Free Design Consultation
Australian Owned & Operated
Security Doors In Melbourne's Western Suburbs Are Important
Many of us will remember a time when you could leave the front door unlocked as you went about your business inside the house without ever considering someone might wander in off the street. Even if they did, back then it was likely a neighbour or friend stopping by for a chat or a favour. This might seem like a fiction but this was how many Australians acted with some even leaving their doors unlocked at night. Unfortunately, society has grown that little bit less trustful as crime has gradually increased over the years. Today, no one in their right mind would do such a thing in a city or suburb and rightly so. Security doors have become an integral part of everyday life, along with other safety measures such as alarm systems. It is important to ensure that your doors perform well and last a lifetime.
Security doors in Melbourne's west may seem like an unnecessary move, but being able to feel secure in your own home is something you don't want to lose.
Get a Free Quote!
Expert Installers That You Can Trust in Melbourne's Western Suburbs
We stock a whole host of excellent security door solutions that cover all tastes and requirements. We can supply outdoor blinds, gated doors, stainless steel doors, screen doors, hinged doors, grill and glass doors. All of our products are installed by fully qualified and fully vetted engineers and each door comes with a service warranty of five years. We work solely on the installation of doors, blinds and window furnishings; we are not a backyard operation or a contractor. Now you can rest easy in the knowledge that your property is protected by the very best secure entryways overseen by professionals who have more than twenty-five years of experience.
Read More
Talk To Us About Installing Security Doors In Melbourne's West Today
If you're looking for security doors in Melbourne western suburbs, then there is only one place that you need to check out for all everything you are looking for. We have been installing security doors in Melbourne for all across the western suburbs including Epping. Uniblinds is the name you can trust to get the job done right and on schedule. Not sure about our service? No problem, why not take a look at some of our past clients' testimonials that detail our work and commitment to quality? You'll get a good sense of what we can offer your home and the satisfaction we can guarantee. You can also request your free no obligation quote for blind or security door installation. If you have any queries or concerns then don't hesitate to get in touch with us, we are always happy to help!
Read Less
Get a Free Quote!
Get a Free In-Home Consultation!