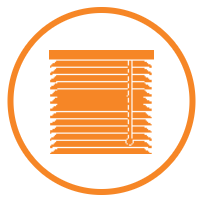 Roller Shutters in Melbourne
Here at Uniblinds, we are proud to be constantly thought of as the market leader for the supply and installation of quality doors, screens, window furnishings, and roller shutters in Melbourne. A large part of our success has been the dedicated approach to making sure our customers get a quality service that matches the quality of the roller shutters in Melbourne being installed.
Get a Free Quote!
25+ Years of Experience
Your One Stop Shop
5 Years Warranty
Free Design Consultation
Australian Owned & Operated
Contact us For Our Premium Quality Roller Shutters in Melbourne
This can only be achieved by employing the right people, who are conscientious and want to do an excellent job. All our staff are employed, we don't use contractors; this way we know everybody that works for us, and they will respect the customer's home. Since our foundation in 1991, we have gathered a wealth of experience and knowledge, all of which we use to great effect. The result is an efficient installation routine carried out with precision and care. If you take a look at our customer feedback and testimonials, you will find we have an excellent reputation as the go-to company.
We provide our wide range of products throughout Melbourne suburbs including Roller Shutters Melton.
Get a Free Quote!
Multiple Benefits from the Best Security Roller Shutters
The main purpose of fitting security roller shutters is to make you and your property safer and more secure. They do this by providing a visible deterrent and an extra barrier that intruders have to break through to gain access.
They also offer so much more, providing protection against storms and fires, increasing insulation to reduce heat loss in winter and heat gain in summer so you're more comfortable, saving money on energy costs and muffling external noise. As a bonus, our shutters are aesthetically pleasing so they improve the appearance of your property while potentially increasing its value.
Fitting our roller shutters will ensure you maximise the benefits they provide. That's because Uniblinds' plantation shutters in Wollert are custom-made from the finest materials so they will fit your space precisely, have a long life and give peace of mind through the additional security they provide.
There's been an Upsurge in Residents Installing Roller Shutters in Melbourne
We're not sure why and we don't know if our competitors are experiencing the same, but the benefits of fitting quality roller shutters in Melbourne to your home or business premises are becoming common knowledge and the demand is high, lots of people want them. Whether you choose a manual or motorised version, they are so effective as a security precaution and with the right finish, they look amazing as a secure sunscreen too. Law enforcement statistics show that premises protected by security roller shutters in Melbourne are 4 times less likely to be attacked by random opportunists. Criminals do see roller shutters as an impregnable barrier when fitted properly and protected by appropriate locks. Whether you are looking to protect your home or business premises, make sure you fit premium-grade equipment and locks. Both come as standard with Uniblinds.
Read More
Looking for Modern Roller Shutters in Melbourne?
If yes, you've just found the best in the business! The team here at Uniblinds have decades of experience when it comes to supplying and installing modern roller shutters in Melbourne. We work with each of our clients to ensure they get a perfect fit and design every time. Each member of our team is fully insured, highly experienced, qualified and police checked for your peace of mind. As experts with a passion for what we do, we'd love to hear more about what kind of modern roller shutters you're looking for. Give us a call now or call into one of our showrooms and let's make your property a safer and more stylish space. Roller shutters don't have to be ugly and clunky when you choose Uniblinds.
Probably the Best Roller Shutters in Melbourne
Yes, we know we're a little biased, but we've worked hard to become a leading supplier of window roller shutters in Melbourne. Since we set up our first small factory in Collins Road Melton, we've gone from strength to strength and now we're operating out of two purpose-built factories and displaying our wide range of products in two modern showrooms. Every roller shutter we produce, just like all our other products such as outdoor blinds Melbourne and steel security doors, are made from premium quality materials in line with strict manufacturing processes and also undergoes strict quality control procedures before it is sent out to the customer. And, of course, all our roller shutters in Melbourne come with the standard Uniblinds 5-year warranty – we know that our shutters will last and we're happy to offer you such a guarantee.
So, as you can see, that's why we can confidently say, we supply and install probably the best roller shutters in Melbourne. But don't just take our word for it. Get in touch with us today for a free quote and see for yourself why so many homeowners and businesses choose Uniblinds to supply and install their modern roller shutters.
Modern Roller Shutters from an Aussie-Owned and Operated Business
We're proud to be an Aussie-owned and operated business and to offer high-quality best roller shutters Melbourne to residential, commercial and government customers. Our reputation for providing quality products continues to grow steadily with every new order we fulfil. But our commitment to excellence doesn't stop there. We're also known for the quality of our customer service. Our team is always on hand to answer any queries you may have on any aspect of measuring for, choosing or purchasing new security blinds for your property. We even offer a free in-house design consultation service to give you professional help with your selection.
Plus, when it comes to installation, you can rest assured that our installers are fully qualified, police-checked and fully insured, so your property and your new window roller shutters Melbourne will be in good hands. All you have to do is place your order and we'll do the rest.
Get Our Modern Shutters in Melbourne Today!
Modern shutters serve many practical purposes and are also a huge part of your home decor. Picking the right ones can be difficult when you don't know what you're looking for or what you want. Uniblinds is here to help. We have a wide range of different blinds and shutters and serve almost all of Melbourne with in-home consultations and installations included with every purchase. We've been in the business for 30 years now, so if you're redecorating your home and looking for new blinds, we're the place to go. We sell indoor blinds, outdoor roller shutters and canvas awnings, and security doors. We service most areas and provide specific product lines to suit your needs. Such as offering a wide range of roller shutters in Werribee to choose in different shades and styles.
Why Modern Shutters are Important?
They give you privacy from the outside, especially if you live in a busy area or if you're on the ground floor facing the street
Modern Blinds Shutters can help you lower your electricity bill, as they keep in heat and prevent draughts, which means you're losing less heat
If you're a light sleeper or work nights, blinds are essential to shutting out the light and improving your quality of sleep
Blinds can deter burglars, as they prevent them from looking inside your home and seeing your valuables or being able to determine if you're at home or not
Blinds protect your furniture from the sun and provide cool shade for the warm summer months
If this doesn't convince you that you should put some thought into the blinds you choose, just think about how your interior design is affected by your blinds. The right ones can make any room look even more elegant and fashionable, and blinds that clash can ruin the appearance of the entire room.
Here are some foremost features that one can get by installing modern roller shutters at their windows or doors:-
It has beautiful and stable as well as sleek design.
It has the lightweight, and you can fix it quickly at the place you want and that too without putting excess weight on the shutters frame.
It is one of the user-friendly options, and you can handle it easily.
It will last long at your place, i.e., it is a one-time investment option.
modern roller shutter has smooth movement and will not stick anywhere at the time of operation.
You are free to install Modern Roller Shutters anywhere you want; it might be at your windows or doors.
You don't have to worry about the sizes; they are available in every possible dimension.
You don't have to worry if you have pets and kids at your home because it has high safety measures.
Door or Window Roller Shutters for your Melbourne Property
If you are still reading this web page then it's obvious you are serious about securing your home or business with some quality roller shutters in Melbourne, many suppliers use sub-contractors for their installation work. Not here at Uniblinds. We employ all our installation technicians. They're all experts in their craft with experience and knowledge about what works and what doesn't in all installation scenarios.
If you would like to take advantage of our no-obligation measure and quote service, then get in touch today and get one arranged. You can Contact Us here on our web page. Simply type in your details and we'll call you back to arrange a mutually convenient time to call and measure up. Once we've created a quote the rest is up to you. We think you'll be impressed with our approach, quality and value for money. Call if you prefer on 1300 864 254 if you want to enquire about our services such as security doors Melbourne, blinds in Melton, and security doors in Melton. We've got somebody waiting for your call.
Read Less
Get a Free Quote!
Get a Free In-Home Consultation!