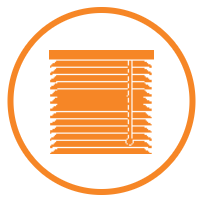 Security doors in Hoppers Crossing
If you are considering getting a security door for your property, Uniblinds offers you an unrivalled choice and service. We have a range of security doors near Hoppers Crossing that allows you to make your home safer and more secure.
Security doors are a great investment for your home and with our range of Clearshield perforated stainless steel, aluminium and steel security doors near Hoppers Crossing, you can be sure that you will find the right one for you and your home.
Get a Free Quote!
25+ Years of Experience
Your One Stop Shop
5 Years Warranty
Free Design Consultation
Australian Owned & Operated
Why have a security door installed in Hoppers Crossing?
First and foremost, a security door in Hoppers Crossing does what its name would suggest – it makes your home more secure. This is because they are made to be strong and durable, making it hard for someone to break-in and enter your home. When you choose a security door from Uniblinds, you can have added reassurance that your door comes with a 5-year warranty.
As well as this, a security door is a great way to deter burglars. This is because they are known for being strong and secure, and therefore hard to break in. This can put thieves off because it would be too much effort to get inside and they often look for homes with weak points for easy access. Security doors are particularly advantageous to areas with higher crime rates or if your neighbours have suffered from burglaries in the past.
Get a Free Quote!
Security Doors in Hoppers Crossing – The Stylish Option
A security door can also add that all-important kerb appeal to your home. With our range of stylish security screen doors near Hoppers Crossing, you can enhance the appearance of your home, as well as making it more secure.
Often, home improvement is about adding value to your home and installing a quality security door is no exception. While you remain in your home, you reap the benefits of a more secure home and, if you ever come to sell in the future, your home will be more appealing to prospective buyers.
Your home is there to provide you with both security and comfort. To achieve this, Uniblinds has security doors at Hoppers Crossing to give you what you need. Not only this, but we can also fit your home with a stylish option so that you get everything you are looking for.
Our company was established in 1991, and since then, we have expanded and continue to offer a fantastic service. We understand that your home is an investment, and you want to get the most from it, as well as protecting it from unwelcome intruders.
Whether you are after blinds to make your home more comfortable or options to make your home safer, we can help.
Read More
Leading Security Doors Near Hoppers Crossing: We Offer Fantastic Service
At Uniblinds, we like to put our customers first, which is why we listen to you to find out your requirements for your security doors in Hoppers Crossing. Along with this, you can rely on our professional expertise and advice to get you the right security door and blinds for your taste and budget.
Finding you the right Hoppers Crossing Security Door
At Uniblinds, no matter what style of home you have, whether modern or traditional, you will find home security doors near Hoppers Crossing that suit you.
What's more, we offer a free in-home consultation where we will come and measure and assess your home, which will allow us to quote you and offer you recommendations on the best type of door for you and your lifestyle. As we have over 25 years' experience installing security doors in Western Suburbs, we can be relied upon to provide you with the best advice.
When you choose Uniblinds, you can have peace of mind knowing that we have full-time installers. We do not contract out work, so you can be sure that you will receive the same great service from when you choose your door to when it is fitted.
You can come and visit us in one of our showrooms in Epping blinds or security doors Melbourne and we would be happy to talk you through your options.
Choose Uniblinds for your security door today and look forward to sleeping soundly at night knowing that your home is secure.
Read Less
Get a Free Quote!
Get a Free In-Home Consultation!