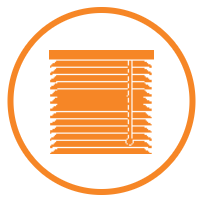 Security Doors In Craigieburn
You cannot put a price on the security of your home. Knowing that your home is secure helps you to rest easy whether you are home or away because you can be confident that your home is safe from break-ins. Our security doors can be installed in your Craigieburn home and can increase the security of your home, making it incredibly difficult for intruders to enter.
At Uniblinds, we have a wide variety of security doors in Melbourne to meet your security needs, and these can be recommended to you according to your budget and your taste.
Get a Free Quote!
25+ Years of Experience
Your One Stop Shop
5 Years Warranty
Free Design Consultation
Australian Owned & Operated
Why install security doors to your Craigieburn home?
You may be thinking of installing a security door in Craigieburn for many different reasons. Ultimately, you need to look for a door that will give you the level of security that you require. Our staff have the knowledge and experience to advise you about the best door for your needs. We can also come and complete an in-home consultation for free where we can measure and offer you recommendations.
Even the sight of a security door can deter burglars from attempting to break into your home. When they see one, they know the chances of getting in are slim and they look elsewhere.
Our security doors Melton are made from aluminium and steel to give you the best protection, and there are many designs available. We have options such as grill doors, perforated mesh with our ClearShield door and our beautiful DecoView doors. You can choose a design that complements your home.
Get a Free Quote!
Uniblinds: helping you to make your home more secure with Security Doors in Craigieburn
Security doors Craigieburn are also designed to last, so you will not have to replace your investment, and it will remain a strong guard to your home year after year.
On top of this, adding a security door can also increase the value of your home. Even if you are not in your forever home, by installing a security door, you can have the peace of mind that you currently need, and know that you will recover some of the cost when you sell your home. Like you, potential buyers want to live in a home that they feel safe in, and the addition of a security door is an attractive feature to any home.
Read More
Your home is a place where you should be able to truly relax and unwind. You can feel safe at home with our range of security features to fit your doors and windows.
When you choose Uniblinds, you can be sure that your new security doors in your Craigieburn home will be fitted well to provide you with maximum protection. Your door will be custom-made to fit your measurements. None of our stock is off-the-shelf or ready-made because this would not offer you the best protection.
We can give you a solution to your security at the most cost-effective price, so you can be confident that you are benefitting from our expertise.
Some of the other areas we services are:
Visit us today in our showrooms in Epping and Melton or call us for your consultation.
Read Less
Get a Free Quote!
Get a Free In-Home Consultation!