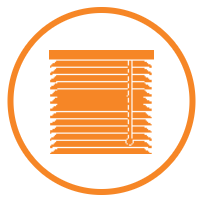 Roller Shutters In Epping
Uniblinds (leading supplier of roller shutters in Melbourne) is the right company to trust if you are looking for quality blinds and roller shutters in Epping or even if you are in need of a strong and beautiful security door.
We make a wide variety of door and window furnishings and can get these window and door solutions installed professionally at your home or business anywhere in this and other Melbourne suburbs.
Get a Free Quote!
25+ Years of Experience
Your One Stop Shop
5 Years Warranty
Free Design Consultation
Australian Owned & Operated
We Supply Security Shutters In Epping
With over 45 combined years of industry experience, you can certainly count on quality roller shutters in Epping and services when you choose Uniblinds. We are also registered members of the BMAA and NSSA and source all of our products and materials from highly reputable firms. All of our products are Australian made and are designed to meet associate standards in terms of quality and security.
It can be hard to find a reliable supplier of security doors and other products in Epping. UniBlinds is known for supplying quality products to many areas of Melbourne, such as roller shutters in Werribee and roller shutters in Hopper's Crossing.
Get a Free Quote!
Buy Roller Shutters in Epping
We offer a huge variety of roller shutters in Epping, and our products are also available in different designs, finishes, material types and colours. With UniBlinds, you are bound to find the perfect home and business window solution, whether you are investing for the sake of functionality or style. Here is just a quick look at our variety of blind and shutter types available for viewing at our showrooms.
Read More
Exterior blinds and roller shutters in Epping – Exterior blinds and shutters are extremely helpful for improving security. These blinds or shutters can be raised, lowered and the slats of shuttered blinds can be altered to adjust privacy or to allow more or less natural light to enter the building. Exterior blinds also offer added protection from natural elements such as wind and rain to your doors and windows.
Recess blinds – Inside frame blinds are fitted to suit the size of your window frame and offer a snug fit inside the frame for a very rounded and finished off look.
Roller shutter installation services in Epping – At UniBlinds, we have a team of highly skilled and fully trained professionals available that can help you with any and all of our blind installations. Our teams will ensure that your blinds are installed professionally so they can look great and remain functional for a very long time to come.
Window Shutters in Epping do not have to be boring!
Are you looking for window shutters in Epping? If so, we've got you covered! Uniblinds know everything there is to know about supplying and installing high quality window shutters that deliver on all counts of style and practicality. We use the best quality materials and our team follows strict quality control measures to ensure each and every one of our window shutters exceeds the expectations of our customers. We've been in business since 1991 and we love working with home and business owners in Epping to bring their visions for a safer, more stylish property to life. Get in touch with our team today.
Secure Your House with Roller Shutters In Epping Today!
Roller shutters in Epping are a basic must-have for any building or home. These doors don't just enhance building safety; they also enhance functionality because you can keep your security door locked in place while opening the interior door so natural light and fresh air can enter your building.
Read Less
Get a Free Quote!
Get a Free In-Home Consultation!